In Remembrance
Graham Cheetham, 1943 — 2021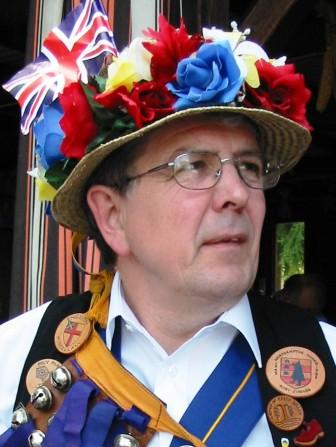 It is with great sadness that we announce the passing of Graham Cheetham, a stalwart of Peterborough Morris for nearly 40 years. Graham learned to dance with the Northampton Morris Men in the mid-1970s, and joined the fledgling Peterborough side in 1982. Always genial and full of mirth, he was public face of the side for many years and a most enthusiastic advocate of the morris. Graham was committed to Peterborough Morris, serving as Bagman (2002—2003), Treasurer (2008—2019), and Squire (2016—2017). Over the years, he also found time to dance with a number of other clubs, including Crosskey Clog, Peterborough Folk Dance Club, Rutland Morris Men, and Yaxley Morris. Outside of morris, Graham had many other interests and hobbies. Always keen for an opportunity to perform, he was a regular with the Peterborough Gilbert & Sullivan Players and Gang Show ensemble. Graham was an active member of the Campaign for Real Ale, and enjoyed volunteering at beer festivals across the country. As a young man, he worked for British Railways, and maintained a keen interest in steam engines and railways throughout his life. At one time, he had a share in a steam traction engine, which he delighted in exhibiting at shows. Graham retired from dancing shortly before lockdown, but maintained his membership with the side. We were so pleased that he could make it to our Day of Dance in September, where he joined in with the camaraderie and fellowship which he so enjoyed. Graham will be remembered fondly for his infectious sense of fun and quick wit.
Ian Paul, 19 November 1931 — 24 February 2021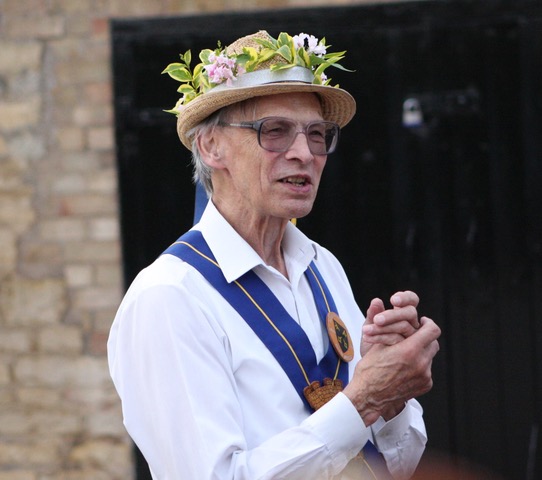 It is with sadness and heavy hearts that we announce the passing of Ian Paul, a founder member of Peterborough Morris and long-serving Foreman.

Ian's dancing career began in the late 1940s as a teenager in St. Albans, where he quickly gained a reputation as a dancer of prodigious talent. Starting out with old time and Scottish country dance, he soon took to Highland, English country, and eventually morris. At university, Ian dedicated the majority of his leisure time to dancing, becoming President of the country dance society at University College London. At its peak, the society met five times a week, with a varied programme of English country, Highland, and morris dancing.

During National Service with the RAF at Castle Bromwich, Ian developed a fascination for radar and accepted a permanent commission in 1954. Frequent relocation presented variable opportunities for dancing, but Ian was always able to seek out local clubs. At Southampton, he joined the Winchester Morris Men, followed by a posting to Henlow which delivered him to the Offley Morris Men and Stapler's folk dancers. In the late 1950s, he was invited to participate in a tour of Devon organised by the White Horse Morris Men, which became an annual holiday. Whilst stationed at RAF Laarbruch, in northwest Germany, Ian met Vera. They married at Peterborough Cathedral in 1963 with the Offley men providing a guard of honour.

His next posting was to RAF Upavon in Wiltshire, described by a friend as 'a compassionate posting to White Horse' after two and a half year's 'morris exile' in Germany. Ian was elected Squire of the White Horse side in 1966 and held office until the spring of 1967 when he was posted to Philadelphia to work on the Chinook purchase. With a young family now in tow, he retired from the RAF in 1969.

Ian and his family moved to Peterborough in 1973, where he took a job at Perkins Engines. At this time, there was no folk dancing club in the city, but Ian continued to attend the annual summer tours to the New Forest with White Horse, and to the Cotswolds and later Derbyshire with Offley. In 1978, the family became founder members of the Peterborough Folk Dance Club, and the following year Ian assisted in the formation of Peterborough Morris.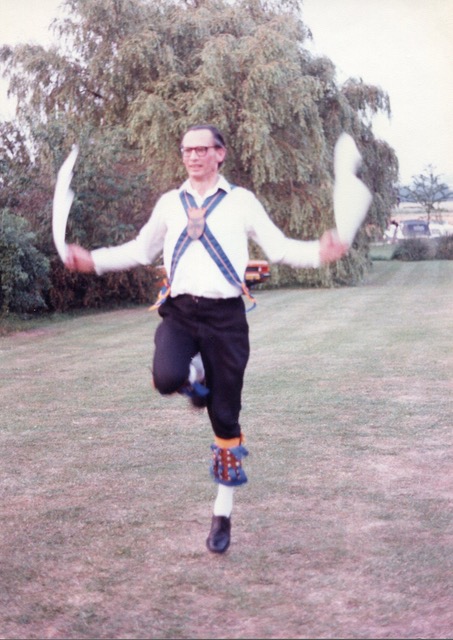 In 1984, Ian and Vera formed Hurluberlu, a group specialising in 17th century English country dance. In 1980 Ian was elected Foreman of Peterborough Morris, a role which he held for most of the last 41 years. He served as Squire from 1983—84.

Peterborough Morris has benefitted enormously from Ian's extensive knowledge and expertise over the years. Never wavering from his pursuit of excellence, Ian was sometimes economical in his praise but always generous with support and guidance. His passing is a great loss to the side.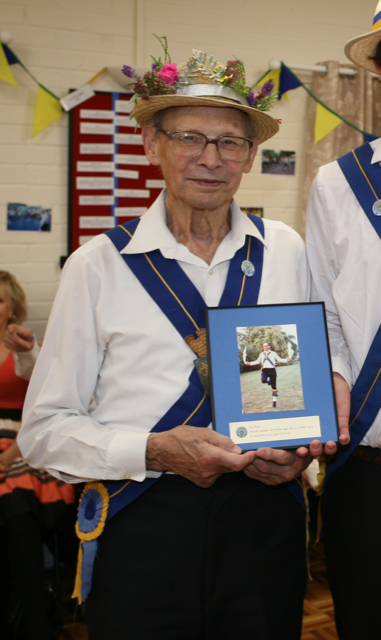 By Matt Simons PhD

The final dance from his funeral, Bonney Green, Bucknell.
Dancers - Matt & Ollie Simons.
Music - Mark Swingler.
Video - Richard Simons.
Practice for this was under Covid-19 restrictions, i.e. Zoom!
MUSICIAN'S FOOTNOTE
I was intrigued by Ian's choice of dances for his funeral as there was little from our repertoire, but in the event it all worked well.
· Field Town Processional - None of us had ever done this before! Matt consulted Sharp's book and I checked the tune in Bacon.
· The Nutting Girl - a PM regular so no problem .
· Bonnets so Blue (Bucknell) – I used to play this for John Trickey 30 odd years ago. Matt danced in as squire to this so we did have some experience of it.
· Bonny Green (Bucknell) – I learned this when PM practiced it a long time ago, probably before Matt was born, but we never danced it out. It struck me as quite a haunting tune as I practiced it; an effect enhanced, I think, by playing the melody only without chords.
Ian must have known that Matt and Ollie would rise to the occasion but he could not have foreseen back in 2017 that normal practice would be impossible. We just had a couple of Zooms.