Peterborough Morris Cathedral City Day Ring Meeting Saturday 25th September 2021
This should have happened last year to celebrate 40 years since our first public appearance. But, forgetting 2020, it did mark 40 years of dancing!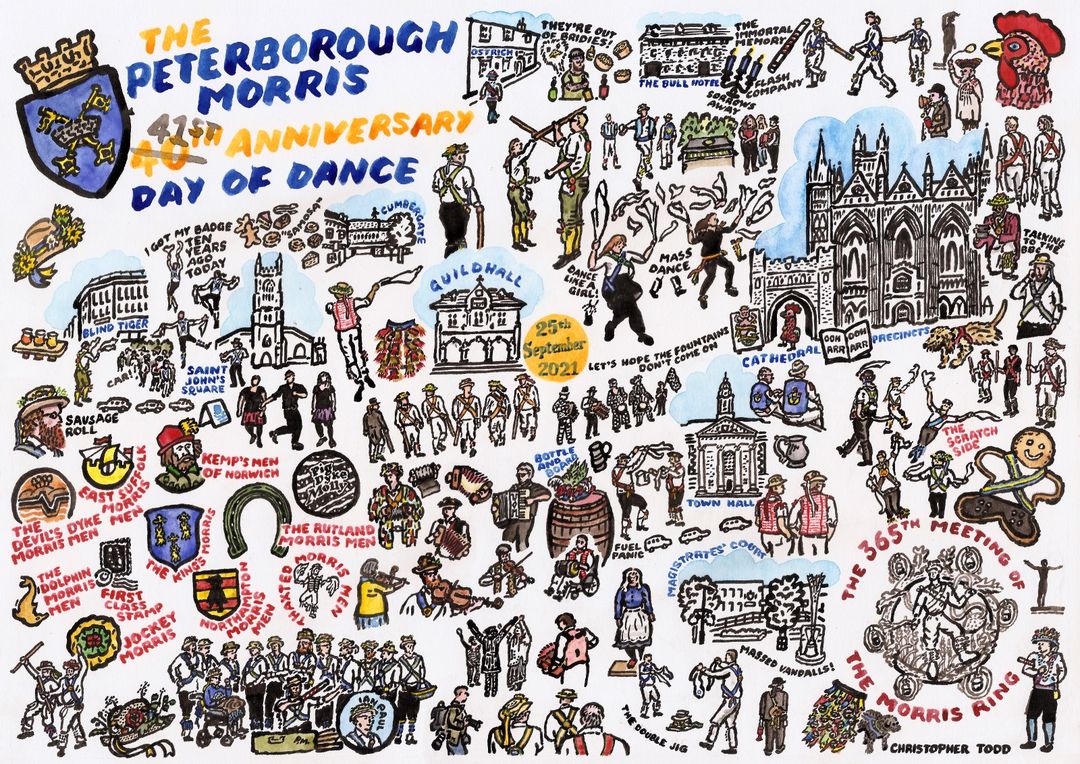 Image with permission from Christopher Todd. Now available as an A3 landscape giclée print on Hahnemühle photo rag paper. Purchase here.
This was a very special day for us. We are collecting material to record memories. If you were there and permit us to use them, please send any pictures, videos, anecdotes, reviews and whatever to:-

mark AT swingler.me.uk

The event was a huge success - many of the visiting sides commenting on how beautiful Peterborough looked in the sun. We had a total of 12 full sides (including Peterborough Morris) and representatives from an additional seven.
Dancers came from Kent, Birmingham, Nottingham, Norwich, Cambridge, Brackley, Letchworth, Suffolk, Thaxted, among other places.
Teams represented included Devil's Dyke, Dolphin, First Class Stamp, Jockey, King's and Wadard.

It was the largest event that Peterborough Morris has ever staged, and the first time we have hosted a meeting of the Morris Ring. We drew a crowd wherever we went, especially on Cathedral Square and St John's Square. In the evening, some of us enjoyed a Feast at the Bull Hotel.
This event was a walking tour of the ancient and modern city centre.
Based in Peterborough's historic city centre, the day began and ended with massed shows on Cathedral Square. There were several locations for dancing all within easy walking distance of one another. There were dance spots in Cathedral Square (with the Guildhall as a backdrop), St John's Square (next to the city's 11th-century parish church), outside the 1930s Town Hall, and inside the Cathedral precinct.
The day finished with afternoon tea and homemade cakes served in St. John's church.

Downloads
The Program
City Guide
Reviews
"A big thank you to yourself and Ollie for and excellent day. All of Dolphin enjoyed the day greatly. It was really good to get back into the old ways."
Dolphin Morris

"Thank you so much for a brilliant day. Superbly organised, laid back and sociable and wonderful tea and bits! Please pass our thanks on to all who organised."
Pig Dyke Molly

"A quick note to thank you for hosting the day of dance and ring meeting yesterday. We had a thoroughly pleasant day and it was unanimously agreed that you had put on a 'jolly good show'! Peterborough looked splendid, we enjoyed the pie and pint at The Ostrich, thought of skiving off at King's Square (it was very hot) but were brought back on task by our Foreman and the audience was attentive, attractive and enthusiastic. Thank you for all your hard work and for giving us a lovely day out."
Rutland Morris Men

"Thank you for an absolutely superb day, we had a fantastic time and were made most welcome. Do pass on our thanks and congratulations for a fantastic event to the rest of the team."
First Class Stamp